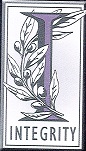 Integrity magazine includes articles written by Church of Christ members from 1969-2002. The publication conveys the beliefs of a small group of Church of Christ members and is not necessarily reflective of mainstream Church of Christ doctrine.

The Integrity magazine collection is primarily created to support the teaching and research missions of Rochester College.
The copyright and related rights status of this collection has been reviewed by the Rochester College Ennis & Nancy Ham Library, but the institution was unable to make a conclusive determination as to the copyright status of this collection. If you are the copyright holder and believe this item or any other item in question has been used without your permission please contact librarystaff@rc.edu.