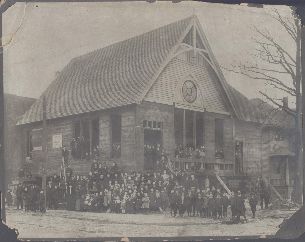 The collection chronicles Churches of Christ in Southeast Michigan from 1880-2009, with a focus on racial reconciliation during the Civil Rights Movement. The collection was donated to Rochester University by Vernon and Alice Boyd.

The Michigan Churches of Christ: A History collection is primarily created to support the teaching and research missions of Rochester University. These digital artifacts are a part of the record of the past. Rochester University does not endorse any views or language that may be expressed and/or deemed offensive in these images or documents.

A DALNET grant provided funds for scanning and preserving the collection, while Don McCatty accessioned and organized the collection and Katelyn Kozhuharov scanned and entered metadata.
The copyright and related rights status of this collection has been reviewed by the Rochester University Ennis & Nancy Ham Library, but the institution was unable to make a conclusive determination as to the copyright status of this collection. If you are the copyright holder and believe this item or any other item in question has been used without your permission please contact librarystaff@rochesteru.edu.